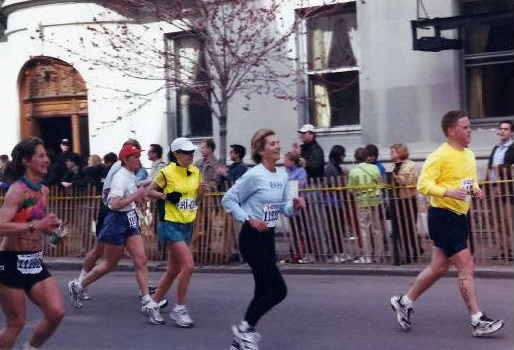 Barb Murphy crosses the finish line at the 2000 Boston Marathon
Everything about this project – the essay competition, the novel, the charity beer – ties back to Barb Murphy and the courage she showed.
Barb, my wife, was a marathon runner who got non-smoker's lung cancer out of the blue in 2007. She fought it for six years before she passed away in 2013.
I wrote Runner in Red as a period piece set in 2000, the year of the Boston Marathon's Millennial Marathon, because the dawn of a new century offered the perfect setting to showcase the resiliency of women – but also because that's the race Barb wanted to run as a 50th birthday present to herself.
She trained hard, she qualified – and she nailed it, as the photo above shows.
Barb was all about action – she was always focused on what she could do for others. To continue Barb's mantle of action, family and friends have devised ways to support a cure for lung cancer, which (many people don't know) takes the lives of more women than any other cancer, many of whom – like Barb – never smoked.
Profits from my novel "Runner in Red" will be go to the cause, both to the expansion of the Runner in Red Essay Competition – to give women runners (like Barb) a chance to share their passion for running – and to advance our campaign to cure lung cancer.
In terms of the lung cancer campaign, family and friends have created the Barb's Beer Foundation (barbsbeer.org.) The Foundation, a 501c3 charity. recruits restaurants and taverns to put Barb's Beer on tap to raise funds we in turn give to our lung cancer charity partners, led by cancerGRACE.org. That charity was founded by Dr. Howard West, Barb's oncologist and one of the country's leading experts working for a cure.
With the Runner in Red Essay Competition expanding, the Barb's Beer Foundation will make a contribution to our cure lung cancer charity partners in the names of the essay competition winners.
We're grateful to everyone working with us to grow and expand the Runner in Red Essay Competition, including the Armory Foundation, Gleason's Gym (the world famous gym in Brooklyn,) and others. We invite those who wish to join our effort, including running groups and college coaches who can get word out to their women runners about the competition, to contact me at tom@tommurphy.org.
Thank you, all, for taking an interest – and thank you especially to women runners who will be entering our Runner in Red Essay Competition to show their love for running as Barb did, and they do – every day!
See you on the roads!
Tom Murphy