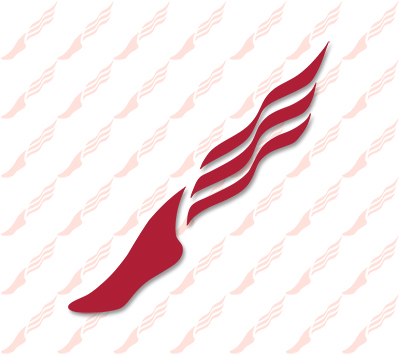 We're partnering with the Armory Foundation to offer FOUR Runner in Red – Racing to the Cure TEAMS as part of the Armory's iconic 26.2 Indoor NY Marathon relay in April, 2019.
Each team in the marathon relay will have SIX members on a Runner in Red team. Each member will run 4 miles on the Armory's famous 8-lap indoor track (where the Millrose Games are held.)
Those on our Runner in Red teams will have fun, share camaraderie and help create awareness for the need to cure lung cancer (our Runner in Red cause) which takes the lives of more women than any other cancer.
We'll be allocating FOUR spots on our teams to women runners who enter the Runner in Red Essay Competition. Women runners who submit essays and want to be considered for a spot on a team will be chosen in a drawing this spring. The drawing for the four spots on our four teams will be held on March 1 (and winners announced the next day, March 2.) See the ENTER page for full details.
Women runners: do you want to be included in the drawing? Submit an essay in the Runner in Red Essay Competition between Sept 21 and Jan. 15, 2019 and you could win a chance to run in the Boston Marathon, but you could also be selected in a raffle to participate on a team at the Armory's iconic marathon relay event. See the entry page to express your interest to have your name entered in the drawing for the marathon relay.
GOOD NEWS: all runners in the Armory charity event will cool down with a cold beer after the race!
Barb's Beer, a 501c3 charity, raises funds for our Runner in Red effort to help find a cure for lung cancer. All participants in the Armory's three-day marathon – April 12, 13 and 14 – including those on our Runner in Red  – Racing to the Cure teams, will find Barb's Beer available at the end of their run! See more about our Barb's Beer cure lung cancer campaign at barbsbeer.org.
Sponsors – 
Join Us!
.
Sponsors – Join us!
Runner in Red – Racing to the Cure
Saturday, April 13. 3pm
Help cure lung cancer
Sponsor a Runner in Red TEAM
In the Armory's
26.2 Indoor NY Marathon!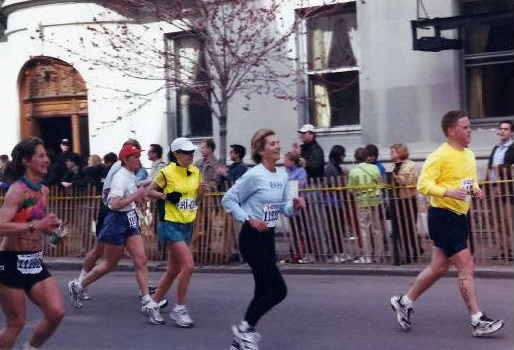 The figure in our program's logo is not clip art, it's a silhouette of Barb Murphy, Runner in Red author Tom Murphy's late wife, crossing the finish line in the 2000 Boston Marathon. Barb passed away from lung cancer in 2013. There is no cost to enter the Runner in Red Essay Competition, but contributions to help us expand the essay competition and support a cure for lung cancer are welcome – DONATE.